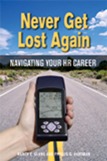 Never Get Lost Again is an essential career development guide for every HR professional. It combines practical advice, tips, and experiences and success stories of HR professionals who have journeyed to their desired destinations. It recognizes roadblocks and barriers, and even considers how to deal with career derailment.
Table of Contents:
Chapter 1. The Shoemakers Children: Travel Barefoot
Chapter 2. Travel Observations from the Experts: A 360o View
Chapter 3. Navigating a Destination
Chapter 4. Mapping Your Route
Chapter 5. Preparing to Embark
Chapter 6. Skills for Career Travelers
Chapter 7. Partners on Your Journey … Mentors and Coaches
Chapter 8. Packing Your Suitcase
Chapter 9. Embarking on the Trip
Chapter 10. Moving through Roadblocks
Chapter 11. Career Derailment: What if the Train Falls off the Tracks?
Chapter 12. Bon Voyage
Praise for the Book
"Never Get Lost Again is a home run. The authors make it clear that talent development and business sense are crucial to the success and survivability of every organization and that these skills have never been more important for HR professionals than they are today. This is a must read for anyone in Human Resources and for leaders in other business functions as well."—Jack Greaf, President & CEO, Mitsubishi Electric Power Products, Inc.
"In Never Get Lost Again Glube and Hartman have focused the reader on the value of HR professionals being different from the majority of co-workers by both intent and design. Their guidance on using these differences and on developing the legitimate ability to speak the language of business should be generously inserted into the development plan of anyone who plans to walk the career path 'less traveled' by their HR peers."–Paul D. Gibson, Executive Vice President & Chief Human Resource, Officer, Mattamy Homes
Order at the SHRM Bookstore: http://shrmstore.shrm.org/browse.cfm/4,5498.html